Avalanche Smart Contract Security Audit
Trusted security vendor with a 4-stage audit methodology analyzing every line of your code
request a quote
Why conduct Avalanche audit
Protect your project from vulnerabilities and show users your focus on security
There are almost 500 projects on Avalanche Blockchain with a TVL of $5B. In 2022, projects on the Avalanche chain have already lost around $100 million due to various exploits and exit scams. In most cases, hackers exploited vulnerabilities in Avax smart contracts. The most common high and critical vulnerabilities are missed ownership checks, external programs validation failure, and missing signer checks.
Avoid costly errors

Critical vulnerabilities may risk the existence of your project. Mitigate the risks with Avalanche smart contract auditing services.

Optimize your code

Get advice on how to make your project run flawlessly.

Increase audience trust

Avalanche audit is your answer to the question "Is this project a secure choice? Safeguard your community trust with the best Avalanche smart contract auditing firm.
Value of smart contract audit for your project
$3.8B stolen from crypto projects in 2022
Code exploits and flash loan attacks behind >50% of the stolen value
Double damage: direct financial losses + token price drop
Who

needs an avalanche smart contract audit?

Avalanche is one of the fastest growing L1 as more crypto projects are building on it. Every DEX or DeFi project on Avalanche needs an audit.

Community trust drops to almost zero when a hack happens. Protect NFTs or in-game assets of your dApp with audits.

Vulnerabilities in wallets and bridges can be disastrous because the stolen funds can hardly be recovered. But this is unlikely to occur if the smart contract is well-audited.
.. And Every Project With Avalanche Smart Contracts
Regardless of any service your project renders on Avalanche, outsmart blackhats by requesting audits to detect and fix possible vulnerabilities in your code.
When

do you need a smart contract audit?
When preparing for a product launch

Upon noticing any malicious activities around your project
After introducing major updates
Before important listing
Looking forward to avoiding exploits and making your project free of security flaws?
Fill out the form to get a quote and book our certified specialists
Benefits of Hacken Smart Contract Audit
Time-Effecient Process

During the negotiating process, the length of a smart contract audit is agreed upon with the customer, and there are no unexpected delays.

Transparent Pricing

Avalanche audit price typically ranges between $10K - $30K. For exceptionally large projects, the price may exceed this аrange. There are no hidden fees and penalties.

Expertise

We are the team of certified auditors trusted by 900+ projects (incl. VeChain, Polkastarter, Solana)

Community Trust

Hacken audits are integrated into CoinGecko, CoinMarketCap, and CER.live. Thus, it serves as an indicator of your trustworthiness for users.

Human Face

We are real individuals. You can find our team members on LinkedIn/Facebook as well as meet us during various industry events.

Quality

Hacken has one of the lowest incident rates among the top Avalanche smart contract audit companies
how does it work?
Become Audited by Hacken within 3-10 Days
1

3-10 DAYS

Get a quote

You supply the required documentation and get the estimation of the audit scope, timeline, and price.

2

Fix it

Audit Report

After the end of initial testing, our professionals will provide you with a report detailing the detected vulnerabilities with recommendations on their fixing.

3

2-5 DAYS

Remediation check

After you introduce fixes, our team performs a remediation check (1 check is included in the price) to ensure that all changes are correct

4

Certification and promotion

Integrate Hacken audit into your website and see it displayed on CER.live, CMC, and CoinGecko. Your audit will be mentioned on the Hacken-owned and partner media
Reach our team to get an estimate and price
Tech Peculiarities

Yevhenii Bezuhlyi
Head of Smart Contracts Audits Department
"Automation checks cannot fully substitute human involvement. The role of auditors is to think like hackers with a focus on being a few steps ahead of them. And don't forget that there is never enough security".
Hacken methodology is accepted by CoinGecko, CoinMarketCap, and Cer.live. We apply a four-stage approach to code review and analysis as it's the most critical part. First, we run automatic tests to check all possible states of the contract and catch simple issues. Second, two separate auditors conduct independent line-to-line code reviews and analyses. Third, the lead auditor manually checks the parallel audits and performs an additional code review. Finally, auditors share the results and work out all disputable points. The smart contract audit by Hacken is so effective because it relies on several auditors to detect hidden weaknesses. We encourage our customers to go through our methodology before the audit and discuss any concerns and suggestions.
Dedicated teams for languages:
WE AUDIT SMART CONTRACTS ON THE FOLLOWING BLOCKCHAINS
What will you get after Avalanche audit?
Certification

After the audit, you will be able to integrate the badge "audited by Hacken" into your website.

Hacken audit will be attached to your project's page on:

Promotion

If your project meets Hacken's partnership requirements, we will offer you an extended service package including marketing activities.

Hacken social media coverage: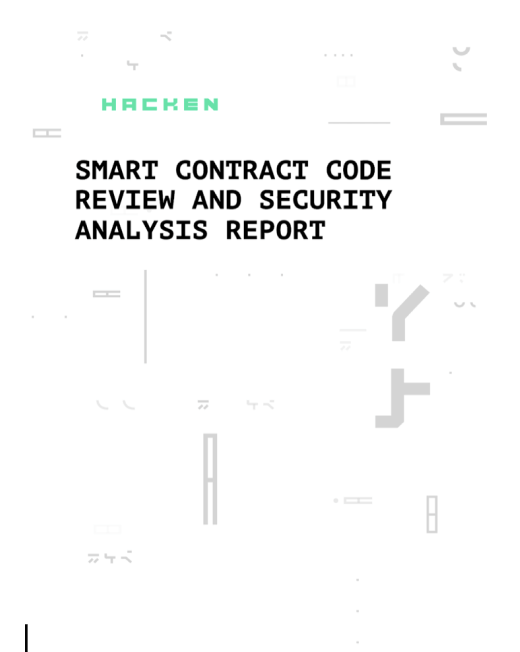 Smart Contract Audit Report
Classification of vulnerabilities depending on their severity;

Step-by-step recommendations on how to fix all issues;

Smart contract scoring according to 4 parameters: documentation quality, code quality, architecture quality, and security.
Trusted by the crypto community
"Hacken founders inherited quality, professionalism, and integrity from Deloitte, their ex-employer."

"They've extended their background and clarification on the subject to ensure the project's success."
Other Web 3.0 cyber-security services
Web3 Security

Penetration testing

Secure your systems with penetration testing

Learn more
Web3 Security

Blockchain Protocol Audit

Timely full-scope security check of your chain

Learn more
Top Solutions

Ethereum (EVM) audit

Smart contract audit for EVM

Learn more
Why Hacken?
5+

Years of Expertise

1,000+

Clients

50+

Crypto Exchanges

180+

Partners

1,200+

Audited Projects

100+

Team Members
Security Auditor & Partner for leading Web3 players
Hacken is a member of top industry organizations
Let the global crypto community know about your strong security
FAQ
How popular is Avalanche blockchain? What about total funds lost and most common vulnerabilities?

According to the REKT database, there are 500 projects on Avalanche Blockchain with a total value locked of $5b. In 2022, projects on the Avalanche chain have already lost around $100 million due to various exploits and exit scams.

Our audit experience shows that the most common high and critical vulnerabilities are missed ownership checks, external programs validation failure, and missing signer checks.

What benefits does a company get by passing a smart contract audit?

A smart contract audit allows a company to detect and then eliminate vulnerabilities in a smart contract by exploiting which attackers can cause serious damage to this company and its clients. The passed audit will also serve as a confirmation of the company's reliability for potential partners and investors.

What is Avalanche smart contract audit cost?

The price of Hacken's smart contract audit typically ranges between $10K and $30K for small and medium-sized projects. Please note that the price may vary. The final Avalanche smart contract audit price may differ depending on the specifics of your code. Request a quote for a detailed breakdown of the Avalanche smart contract audit price for your project.

How much time does Avalanche smart contract audit take?

Avalanche smart contract security audit typically takes from five days to three weeks, but those are only estimates and depend on many factors. Request a quote and our security specialists will give you a detailed timeline for your Avalanche smart contract code audit.

Will my report become public?

Hacken does not publicly disclose any information about its clients, including Avalance smart contract audit report, without the informed consent of our clients.

Where can I see Hacken's methodology?