Ethereum Smart Contract Audit
Full-scope code review to fix all security issues in contracts deployed on the Ethereum network
request a quote
Why should you undergo an EVM smart contract audit?
Eliminate vulnerabilities from your ERC-20 (Ethereum) smart contract
40% of all code exploits, access control incidents, and flash loan attacks are attributable to projects running
on the Ethereum blockchain. If left unchecked, smart contract vulnerabilities can eventually result in lost funds and reputation. Hacken Ethereum contract auditors apply the time-proven approach to auditing Ethereum Virtual Machine (EVM) compatible chains.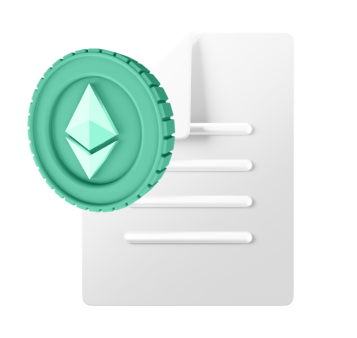 Prevent costly exploits

Smart contract vulnerabilities can threaten the survival of your project. The largest hacks often resulting from code security flaws.

Optimize your code

Receive advice on how to make your project run more smoothly. Apart from security flaws, our EVM contract auditors detect bugs affecting product logic.

Increase audience trust

Ethereum audit is your answer to the question, "Is this project a secure choice?" The rate of incidents among the projects audited by Hacken is less than 1%.
Value of Ethereum smart contract audit for Web3
$6B

total value lost to hacks,

$3.8B

in 2022

DeFi Protocols accounted for

82%

of all hack losses in 2022

Triple damage: financial loss + token price drop + lost trust
Who

needs Ethereum Smart Contract Audit?

Several DEXes and DeFi projects on Ethereum have been victims of terrible hacks. Stay protected with thorough Ethereum crypto audits.

No matter the developers' level of expertise, NFT contracts often have vulnerabilities. Complement development efforts with brilliant audits to checkmate bad actors.

Asset storage solutions and bridges host a large share of funds on Ethereum. Discover and fix vulnerabilities on time to maintain your security.
.. And Every Ethereum Crypto Project
Every project on Ethereum should review logic, test attack vectors, and fix vulnerabilities with thorough smart contract audits.
When

do you need an Ethereum smart contract audit?
Before deploying to Ethereum mainnet

Upon detection of any malicious activities around your project

Following major updates

Before crucial listing
Looking forward to avoiding exploits and making your project free of security flaws?
Fill out the form to get a quote and book our certified specialists
Benefits of Hacken Ethereum Smart Contract Audit
Time-Effecient Process

The duration of an Ethereum audit is agreed upon with the customer during the negotiation phase. We start the audit promptly upon receipt of all required documentation.

Expertise

Since 2017, Hacken, a European blockchain auditor, has been conducting project audits and has subsequently developed our audit quality standards and methodology.

Human face

All of us are actual individuals. You can find our team members on LinkedIn/Twitter and meet us in person during industry events.

Transparent Pricing

During the negotiation stage, the cost of the Ethereum smart contract audit is determined exclusively based on the audit's scope and complexity, with no unknown fees or penalties included.

Community trust

Hacken audits are integrated into CoinGecko, CoinMarketCap, and CER.live. Thereby, it provides users with an indication of your trustworthiness.

Quality

Hacken offers the highest metrics for EVM smart contract security with less than 1% incident rate and 0% scam rate among the audited projects.
how does it work?
We start Ethereum security audit when you are ready
1

3-10 DAYS

Get a quote

You submit the necessary documentation and you will receive the estimation of the audit's scope, timeline, and cost.

2

FIX IT

Audit Report

After the end of initial testing, our experts will provide you with a report that outlines identified vulnerabilities and provides recommendations for fixing.

3

2-5 DAYS

Remediation check

After you introduce fixes, our team will conduct a remediation check (1 check is included in the price) to verify the accuracy of all modifications.

4

Certification and promotion

Integrate Hacken audit into your website and see it displayed on CER.live, CMC, and CoinGecko. Your audit will also be featured on media platforms owned by Hacken and our partners.
Reach our team to get an estimate and price
Tech Peculiarities

Yevhenii Bezuhlyi
Head of Smart Contracts Audits Department
"The role of professional auditors is to assist projects in making their products more secure and functional for users. Full understanding of your mistakes is the only way to their prevention in the future".
Hacken Ethereum contract auditors follow the methodology accepted by CoinGecko, CoinMarketCap and Cer.live. We apply a four-stage approach to code review and analysis as it's the most critical part. First, we run automatic tests to check all possible states of the contract and catch simple issues. Second, two separate auditors conduct independent line-to-line code reviews and analyses. Third, the lead auditor manually checks the parallel audits and performs an additional code review. Finally, auditors share the results and work out all disputable points. The smart contract audit by Hacken is so effective because it relies on several auditors to detect hidden weaknesses. We encourage our customers to go through our methodology before the audit and discuss any concerns and suggestions.
Dedicated teams for languages:
What will you get after an Ethereum smart contract audit?
Certification

After the audit, you will be able to integrate the badge "audited by Hacken" into your website.

Hacken audit will be attached to your project's page on:

Promotion

If your project meets Hacken's partnership requirements, we will offer you an extended service package including marketing activities.

Hacken social media coverage: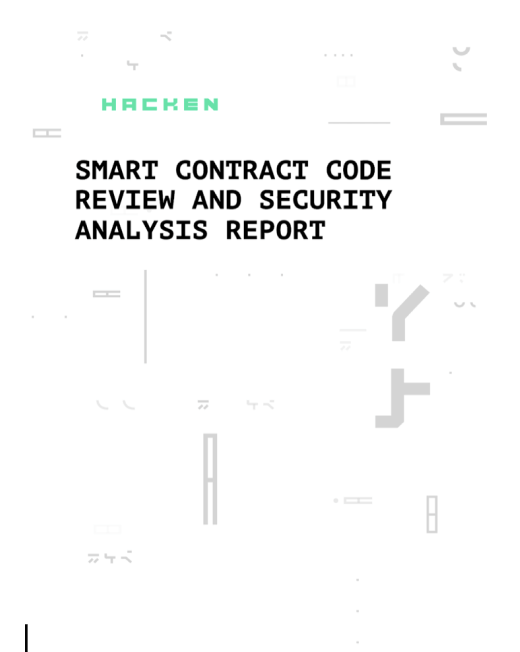 Ethereum Smart Contract Audit Report
Classification of vulnerabilities depending on their severity;

Step-by-step recommendations on how to fix all issues;

Smart contract scoring according to 4 parameters: documentation quality, code quality, architecture quality, and security.
Trusted by the crypto community
"Hacken founders inherited quality, professionalism, and integrity from Deloitte, their ex-employer."

"They've extended their background and clarification on the subject to ensure the project's success."

"Strong expertise. In our opinion, this team knows everything about cybersecurity."

"We saw that Hacken had deep experience in establishing effective communication with clients."
Other Web 3.0 cyber-security services
Web3 Security

Smart Contract Audit

Time-efficient full-scope security check of your smart contract by certified specialists

Learn more
Web3 Security

Blockchain Protocol Audit

Security check of your layer 1 blockchain protocol

Learn more
Top Solutions

Solana Contract Audit

Full-scope security check of smart contract for Solana

Learn more
Why Hacken?
5+

Years of Expertise

1,000+

Clients

50+

Crypto Exchanges

180+

Partners

1,200+

Audited Projects

100+

Team Members
Security Auditor & Partner for leading Web3 players
Hacken is a member of top industry organizations
Leading media write about our contribution to securing Web3
Let the global crypto community know about your strong security
FAQ
What are smart contracts and why do web3 projects rely on smart contracts??

Smart contracts are digital contracts that automatically execute financial transactions once specific terms and conditions are met. They make up the foundation of crypto trading and decentralized finance.

Smart contracts ensure safety, accuracy, and high speed of interaction. When predetermined conditions are met, the actions are executed automatically. Smart contracts ensure trust and transparency between the parties involved. When coded without errors and weaknesses, smart contracts can ensure the ultimate security of transactions.

What is an ERC-20 (Ethereum) smart contract audit?

The audit process consists of vulnerability assessments of smart contracts deployed on the Ethereum network as well as identification of security flaws and network vulnerabilities. The audit team will review existing security practices that the project uses in its smart contracts. The auditing firm will also provide recommendations to the project team on security policies and better security controls designed to protect the project from new issues.

What token standards are supported by ERC-20 audit?

In addition to ERC-20 audit, we support all common token standards running on the Ethereum blockchain, including ERC-20, ERC-1155, ERC-4626, ERC-721, ERC-777, ERC-2535 standards.

What are ETH smart contract security risks?

They may seem like complicated systems, but all smart contracts are still computer programs or protocols with function statements and variables that are vulnerable to hacks and exploits. Many smart contracts are fraudulent in nature: unethical actors insert malicious functionality to get unauthorized access and steal money. In our practice, we have seen dozens of unique and repeated loopholes inserted in the code. Besides, some parts of the protocol can be of low quality in terms of protection. Hackers carefully study all the errors and try to capitalize on them. There is a real risk of losing hundreds, thousands, or even millions of dollars due to exploits of smart contract vulnerabilities. A full audit by a team of professionals will help protect your financial interests by identifying and removing all vulnerabilities and exploits.

Can I conduct a smart contract audit myself?

We encourage projects to use their internal resources to review smart contracts. Internal audits can identify vulnerabilities. However, there is extra value to professional audit. A third-party auditing team offers an external call. This is the only way to receive an authoritative opinion and informed recommendations on your code from the outside. On top of that, the internal team may lack the necessary expertise or time to comprehensively review a smart contract. External audit firms have entire teams that specialize in security research and smart contract vulnerability assessment.

What benefits does a company get by passing an Ethereum contract audit?

Most hacks are attributable to ETH projects because Ethereum is the most popular chain for smart contracts. Ethereum contract audit allows a company to detect and then eliminate vulnerabilities in a smart contract by exploiting which attackers can cause serious damage to this company and its clients. The passed audit will also serve as a confirmation of the company's reliability for potential partners and investors.

Where can I find examples of Ethereum smart contract audit reports?

All audit reports (if public) can be found in the "Audits" section at hacken.io

Can I trust Hacken?

In our five years of experience as a Web3 cybersecurity organization, we have audited more than 1,200 projects on all possible chains. We provide other cybersecurity services, such as Penetration Testing, dApp Audits, Bug Bounties, and Proof of Reserves. Hacken is an active member of leading industry blockchain organizations and a trusted partner of 180+ Web3 projects. We have a public c-level team and 100+ people onboard, including more than 60 engineers.