dApp Audit
Conduct a comprehensive audit of your decentralized application to ensure safe and secure interaction with the blockchain network
request a quote
Why audit dApp?
Protect assets and ensure that everything is as secure as you think
A decentralized application (dApp) is an off-chain component of the system. It is the most overlooked part of the Web3 ecosystem when it comes to security. dApp audit helps projects create and maintain secure integrations with blockchains and protect assets and reputation.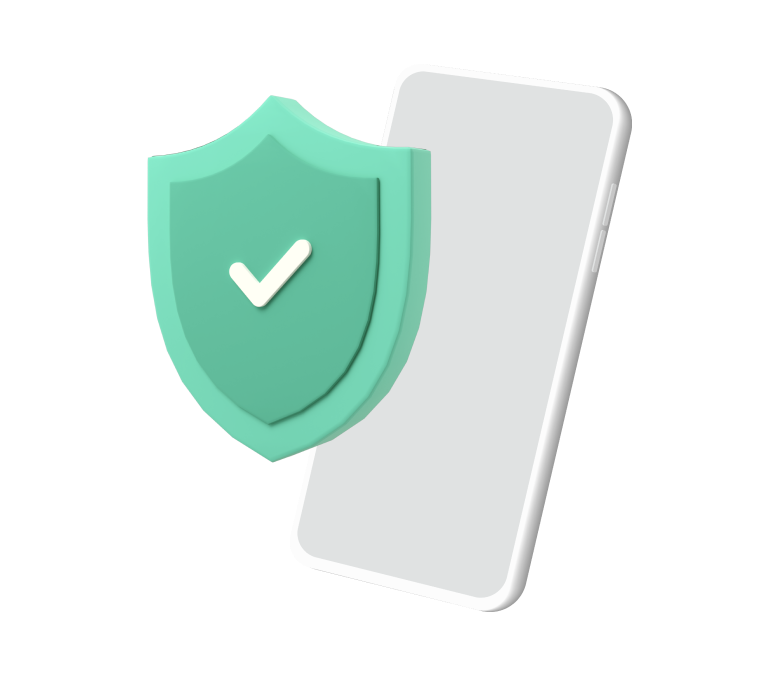 Prevent
expensive mistakes

A security audit is not an added expense, but rather a cost-saving measure that can help prevent hacks and leaks, ultimately reducing potential costs associated with security breaches.

Protect
sensitive data

Our security standards prioritize the protection of sensitive data, providing you with peace of mind regarding your private key safety.

Increase
audience trust

Build trust with users by ensuring complete system security and keeping up-to-date with the latest security trends.
Decentralized Application Audit Is Essential
dApp is a crucial part of the system
100+ dApp exploits for $3.6 billion
8 dApp hacks with > $100 million lost
What projects

need dApp audit services?

Wallets are where users store their digital assets, such as cryptocurrency, and they can be particularly vulnerable to security breaches. Secure wallet is a critical part of interacting with blockchain networks, and a dApp audit can play a vital role in ensuring that your wallet is secure.

Cross-chain bridges enable the transfer of assets across different blockchains, which presents a unique set of security challenges that must be properly addressed. Securing cross-chain bridges with dApp audit is critical to ensure the safety and reliability of these systems.

Well, almost everything. Secure any application that performs cross-chain operations, has custody over sensitive information, reacts to the blockchain events, or uses message signing for authentication.
When

projects need dApp audit?
When preparing for product release

Before blockchain protocol upgrade

Upon noticing any malicious activity

After implementing significant changes to the core dApp functionality
Looking forward to avoiding exploits and making your project free of security flaws?
Fill out the form to get a quote and book our certified specialists
Benefits of Hacken dApp audit
Robust Methodology

Built upon industry-accepted core security principles and is specifically tailored to review applications that interact with blockchain networks.

Transparent Pricing

A breakdown of the full dApp audit price with no hidden fees.

Expertise

Auditors with a proven record of reviewing decentralized applications.

Trust

Trusted by leading blockchain organizations and major Web3 projects.

Human Face

Credible auditor with public industry-recognized leaders.

Caring

A truly caring team with a focus on client outcomes.
How dApp audit works?
dApp audit services on agreed terms
1

Audit

Request a quote

You submit the request along with required documentation, and our specialists consult you on dApp audit price, scope, timeline

2

Fix it

dApp Audit Report

Hacken conducts dApp audit, providing report containing detected vulnerabilities and recommendations for fixing

3

2-5 DAYS

Remediation check

Introduce bug fixes and get a remediation check (1 check is covered) to ensure that all changes are correct

4

Proofed by Hacken

Your dApp is secure. You receive Proofed by Hacken label and promotion package from Hacken
Reach our team to get an estimate and price
Technical side of dApp audit

Yevhenii Bezuhlyi
Head of Smart Contracts Audits Department
"We have already seen a number of preventable hacks that led to millions lost. It is not enough to audit just the smart contracts - the system is only as secure as its weakest component. By doing the dApp audit with us, you can ensure that the off-chain components will not become that weakest point."
Hacken dApp audit methodology
Our methodology was specifically designed for reviewing applications that interact with blockchain networks. It uses well-known and industry-accepted core principles as its base: confidentiality, integrity, and availability. By extending the existing conventional security concepts, this methodology aims on providing the best analysis value for an application interacting with a decentralized network.
Find out more by reading the latest version of our methodology.
We audit dApps that interact with these and other blockchains
What you get after the dApp audit?
Proofed by Hacken

Upon completing the dApp security audit, you will become Proofed by Hacken, gaining the ultimate proof of the security of your dApp.

Promotion

If your project meets Hacken's partnership requirements, we will offer you an extended service package including marketing activities.

Hacken social media coverage: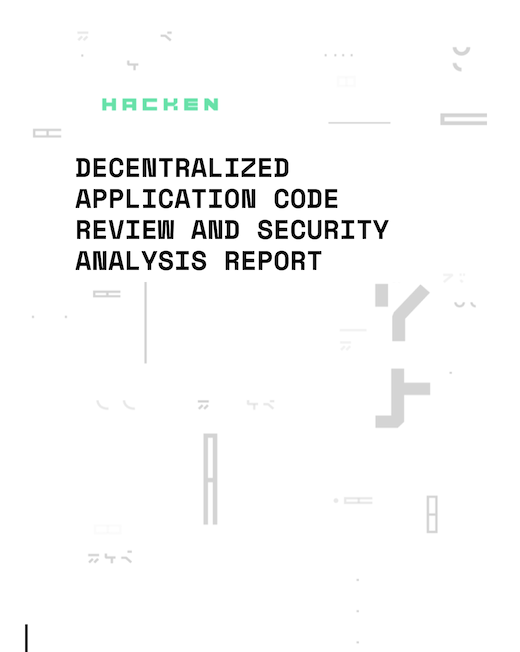 What's included in dApp Audit Report?
A list of issues and vulnerabilities that were found during the review with recommendations on how to address them.

Numerical score for each metric for security, code and documentation quality with the overall system score calculated.

An overview of the system created by the security engineers.
Trusted by the crypto community
"We highly recommend Hacken to anyone in need of Web3 security services and a reliable partner for their blockchain initiatives. Their team's professionalism and expertise in the security space have helped us to secure an ecosystem for our users."

"Hacken founders inherited quality, professionalism, and integrity from Deloitte, their ex-employer."

"Hacken is our trusted security vendor and partner. We recommend all projects to apply for security testing by Hacken to address cybersecurity issues and release the code resistant to any types of cyber threats."

"They've extended their background and clarification on the subject to ensure the project's success."
Other Web 3.0 cyber-security services
Web3 Security

Penetration Testing

Secure your systems with penetration testing

Learn more
Web3 Security

Blockchain Protocol Audit

Timely full-scope security check of your chain

Learn more
Top Solutions

Ethereum (EVM) Audit

Smart contract audit for EVM

Learn more
Why Hacken?
5+

Years of Expertise

1,000+

Clients

50+

Crypto Exchanges

180+

Partners

1,200+

Audited Projects

100+

Team Members
Security Auditor & Partner for leading Web3 players
Hacken is a member of top industry organizations
Leading media write about our contribution to securing Web3
Let the global crypto community know about your strong security
FAQ
What is a dApp?

dApp (Decentralized Application) is an application that interacts with a blockchain in one form or another (e.g. calls or reads from Smart Contracts; blockchain indexing, etc.). Usually, it helps with achieving something that is not possible with just Smart Contracts (like random), or for indexing some information that is not easily accessible through the blockchain directly (transaction history, custom Smart Contracts events, etc.).

Ensure secure blockchain interaction with dApp audit. dApps, such as wallets and cross-chain bridges, are connected to the blockchain. Most projects only audit smart contracts paying no attention to off-chain vulnerabilities. Hacken's dApp audit is the best available choice for projects that want a high level of security. Focused on the off-chain code review, our dApp audit prevents the leakage of a private key and ensures a secure interaction of your dApp with the protocol.

What coding languages are dApps based on?

The dApp code can be written in any programming language. Most dApps are written in Java, Python, JavaScript, C#, and Rust.

What is the difference between a dApp and a smart contract?

dApp is not a Smart Contract. This is a normal application (client – something you can see with your eyes and interact with, or server – something that is hidden behind the UI) that interacts with one or several blockchains. It is not deployed on the blockchain, it deploys like a regular Web 2.0 application; the logic can be changed in the future after the deployment.

dApps use smart contracts to authorize transactions and interact with blockchain. Smart contract code is not the only code of a dApp. dApps also have off-chain code that doesn't interact with the blockchain. This off-chain code is the target of the dApp audit. 

What are smart contracts used by dApps?

dApps are deployed on blockchain and use smart contracts for app logic. Smart contracts are digital contracts that automatically execute transactions once predetermined conditions are met.

What are the security challenges of dApp? How secure are dApps?

The most common exploits in the dApp audit environment are overconfidence in a node (or node provider), failure to account for blockchain branching out, incorrect validation of ENS records, weak authentication via message signing, unsafe private key storage, XSS/SQL injections from the blockchain data, misuse of checksum addresses, blockchain data inconsistency, incorrect integration with a smart contract and/or blockchain platform, usage of wrong data types, application architecture, repository consistency, code style consistency, and deprecated, vulnerable, or outdated Web3 libraries.


What are the dApp security improvement practices?

Deploying a dApp to the blockchain is different from traditional app development because making any changes after is difficult. Therefore, it's vital to ensure security and the absence of any bugs before the launch. dApp security improvement practices are smart contract audit for the on-chain code and dApp audit for the off-chain code.

The dApp security audit performed by Hacken experts covers both the back-end and front-end of the decentralized app. A comprehensive dApp audit by a team of professionals will help protect your financial interests by identifying and removing all vulnerabilities and exploits.

dApp Audit by Hacken will help your project expand the possibilities of decentralized networks in finance, arts & collectibles, gaming and technology, and other segments. With a dApp audit, you can ensure that all blockchain superpowers, such as built-in payments, secure on-chain data, and user credentials, work as intended.

Can I conduct a dApp audit myself?

We encourage projects to use their internal resources to review their dApps. Internal audits can identify vulnerabilities. However, there is extra value to a professional dApp audit. A third-party auditing team offers an external call. This is the only way to receive an authoritative opinion and informed recommendations on your code from the outside. On top of that, the internal team may lack the necessary expertise or time to review dApp comprehensively. External audit firms have teams specializing in security research and dApp vulnerability assessment.

Will I get recommendations on how to address detected issues after an audit?

Hacken specialists will provide you with a report containing step-by-step client-friendly recommendations on how to eliminate detected issues.

What is the duration of a dApp audit?

The duration of a dApp contract audit varies depending on the audit scope and complexity. Generally, the audit duration is specified before the process starts so that a customer is aware of each stage in the process.