How many times have we judged a project only by looking at the size of its telegram group? Poor investments decisions are often made simply because novice crypto investors catch telegram FOMO. If it were to be debated, I think I will be able to conjure up enough arguments to prove Telegram is partly at fault for why many new crypto investors lose their money.
So here is a brief study on users of 12 Telegram groups of projects you voted for on one of my recent Twitter posts.

I have selected 12 groups for this study:
Methods
Unfortunately, Telegram is not giving us a lot of information on member statistics but it obviously should in the future. Moreover, we cannot see the last time the person was online (who decided to hide it from the crowd?). So it did have a little impact on our report. Still, there is a lot of info that we can analyze. In our research, we have ignored airdrops and other telegram group marketing techniques.
At first, we parsed out 12 telegram groups between the 17th and 20th of July. Depending on the size of the group, it usually takes around 2-3 hours to download the data, to be used for later analysis. The report was prepared by a Hacken cybersecurity expert and myself (I love digging into BigData).
Classification
Next, we classified all members of the group into 6 categories:
Bot – welcome chatbot who can be easily identified
Active users – these are members who spend a lot of time on the group and have typed at least 100 messages in the chat. These are typically true supporters, and sometimes team members
Active readers – these are also important members of the community. They are reading the chat on a constant basis, they messaged at least once, but not more than 100 during the reviewed period.
Recent silent users – these are members, who used telegram at least once in the last 3 days, they either never typed a message or maxed at 1.
Vacation silent users – these guys, for some reason, stopped using telegram regularly for up to last 2 weeks and never typed more than 1 message. Maybe they are on vacation.
Dead users – my favorite ones. Offline for more than 2 weeks and submitted 1 or no messages at all. Unfortunately, we have here a status offline problem, but from the statistic point of view real members who are actually reviewing the group and have this option on is never more than 10%. This uncertainty is statistically spread over all of our research, with almost no influence on the big picture.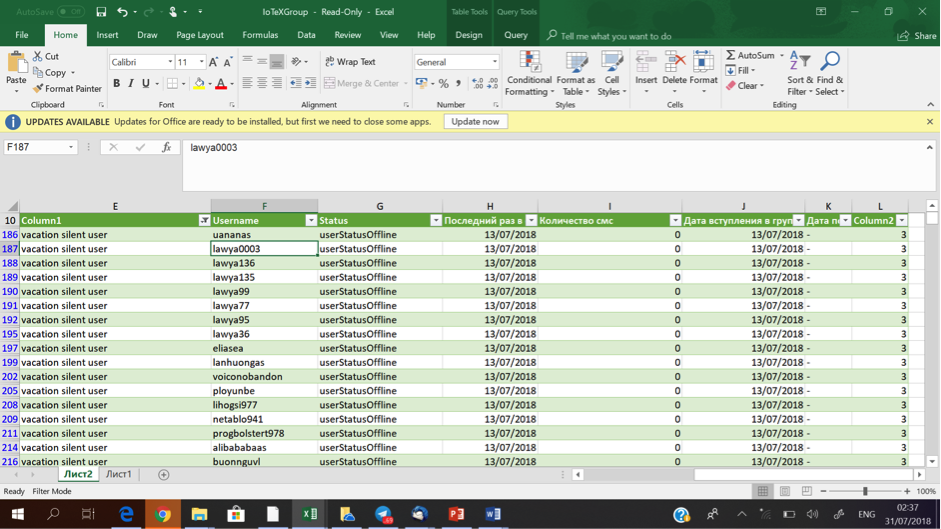 Results
So the only thing left is to sort the best and worst groups into a few distinct categories, of which we've deemed important.
Using the same approach we have prepared data extracts from all the aforementioned groups and combined them in a tiny sexy file.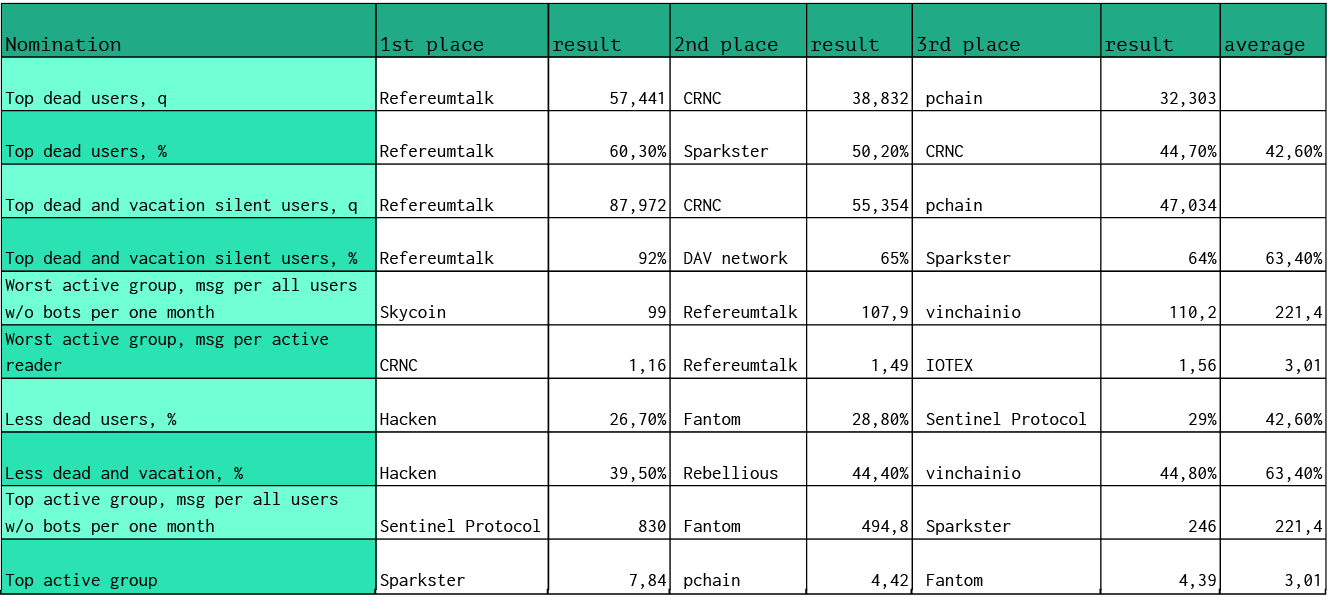 Most of the indexes are quite clear to understand, so it was not a surprise to us that some of the groups have fake accounts; some of the numbers are shocking!
Refereumtalk, which has almost 95k members, in fact, is the winner of the 'top dead users' nomination. More than half of the members are dead users or bots. The average number of dead users among all 12 groups is 42,6%!
From another point of view, there are quite super active groups with lots of messages per average members. We think that the msg per active reader and msg per all users per month trends are very useful tools to set key performance indicator (KPI) for community managers.
If you like our research – send 100 HKNs to 0x88c7b493b62aB45846E29f419D665eDf565fc93a and select the project you want to review. Let us know if you like these types of reports and how we might improve.
By the way, on the CER Blog you can find the researches about crypto exchange manipulations. Check it!